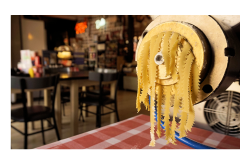 Those who know Hermanus may well know the Fabio's Ristorant Italiano in St Peter's lane. A pleasant, traditional and genuinely Italian eating place. Then, along with everyone else, Fabio's had to close its' doors for a while...but little did we know it was to be a blessing in disguise!
Coming from a family of Italian restauranteurs, pasta is a passion...and suddenly, an idea sprang into view - a fresh pasta factory in Hermanus. Finding pasta making machines was elementary...Italian restauranteurs know exactly where to find them!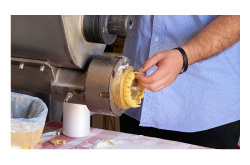 And, as it turned out, the timing couldn't have been better.
A venue was chosen, and of-course, as there were no customers anyway, the organisation could go ahead without any inconvenience.
So, the machines were delivered, connected in, cleaned and serviced. Secret recipes were handed down the family and the staff training began (the instructor was one of the family...of-course!). Pasta making is an Italian art, so although you can watch the machines at work, those secret recipes are closely guarded. Finally trial runs were completed and pasta appeared on the table. But the name for the business?
For this Fabio went back to his native roots. And after much thought, sketches and scribblings, the name Dal Italia seemed just right.
Fixing the name seemed to trigger an explosion of imagination. The rolls of pasta turned into Tagliatelli. An idea for a ravioli turned into Panzerotti. The idea of fresh and home-made meant we suddenly we found suppliers of local produce asking if we could sell their goods. The Dal-Italia Delicatessen was born.
Now, here's the really nice part. Fabio's Ristorante is still flourishing (even after the Covid tribulations!). So, some of that fresh pasta we make finds its' way into Fabio's. If you want to try before you buy, book a table at Fabio's...we can recommend the Panzerotti!